May 10, 2022
AFL Club Sued Over Child Abuse
Rightside Legal has begun legal action against the AFL Western Bulldogs Football Club for a Victorian who suffered years of abuse by a pedophile ring connected to the club.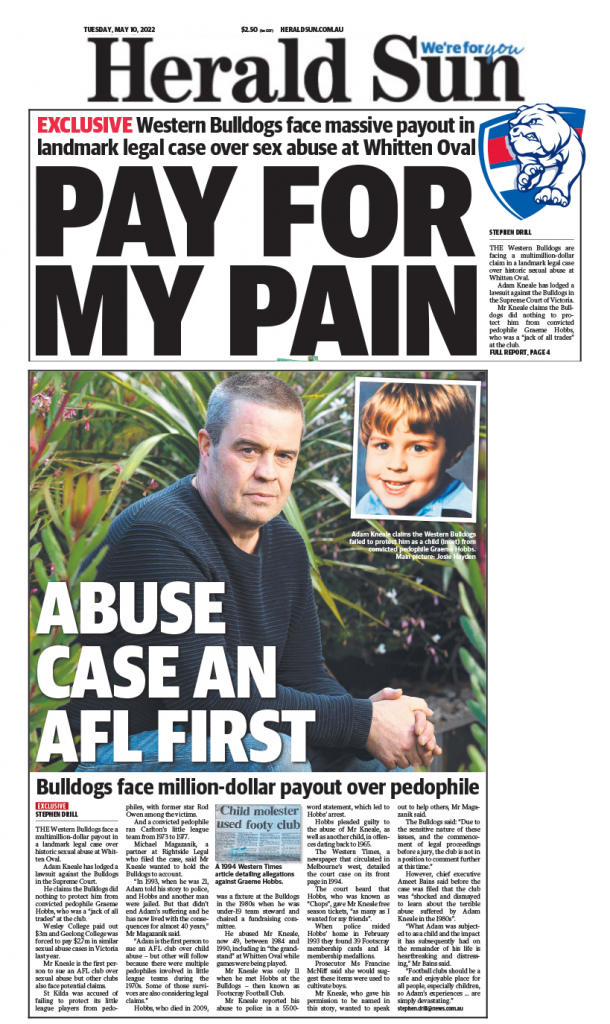 It's believed to be the first child abuse case against an AFL club, but others are expected to follow after revelations about predators in key roles with Little League teams including Carlton and St Kilda.
Rightside Legal also represents a former Australian under 19 cricketer who was abused on tour by team officials.
The Western Bulldogs case involves a former member of the club's fundraising committee, Graeme Hobbs, who was recognised in the club's annual reports for his services to the club as a 'jack of all trades" and "room steward" for the under 19 team.
At the same time, he was using the club's facilities at Western Oval to sexually abuse a young boy for seven years, during training nights, on match days, and on a club interstate trip. He gave football tickets and cash to young boys who sat with him in the John Gent stand on matchdays.
The abuse began when the boy was just 11-years-old. He was often seen alone with Hobbs inside club premises during home games and training, was greeted by players and club staff, and even introduced to the club secretary.
Others in Hobbs' group were involved in abuse and child pornography, including a second man connected with the then Footscray Football Club. Both men were jailed when the man, at age 21, told his story to police.
Michael Magazanik, a partner with Rightside Legal, says the survivor aims to hold the Bulldogs to account.
"He is also grateful for the many messages of support he has received since his story was published. He hopes his story will give hope to other survivors and encourage them to seek help. He wants them to know they are not alone.
"We know that there were other victims at Footscray and there have been publicised cases of child abusers in senior positions with Little League teams in the 1970s. Multiple clubs will have to face up to their histories as more survivors step forward."
Rightside Legal has set legal precedents and compensation records in child abuse cases in recent years.
The firm has successfully represented dozens of survivors of child abuse at state, private and Catholic schools throughout Victoria, including a payment of $3 million to a former Wesley College student and $2.7 million to a former Geelong College student.
After decades of legal obstruction by the Catholic Church, Rightside Legal ran the first successful cases against WA Christian Brothers orphanages where hundreds of children were abused.
In Victoria, Rightside Legal was first to overturn a small 1996 settlement with the Catholic Church to allow a child abuse survivor to seek proper compensation. Hundreds of others who had no option but to accept small offers are expected to benefit from this case and seek adequate compensation.
Read the full article here.